OneAV Reward Points & Cashback Credit
A loyalty programme that instantly translates into more profitability for you!
As a OneAV trade account customer, you're automatically enrolled onto our new Rewards Points scheme.
Every time your business orders you earn reward points - 3 points for every £1 spent. You can then convert your amassed points into 'cashback credits' at a rate of 100 to £1 against any order.
For example: spending £1000 earns 3000 points, which converts (3000 ÷ 100 = 30) to £30 in cashback credit. This can be redeemed on your next order for up to £30 off, or left to be stored in your balance and saved up further.
From time to time we'll run double or triple points promotions on certain brands or products, so keep your eyes open for them.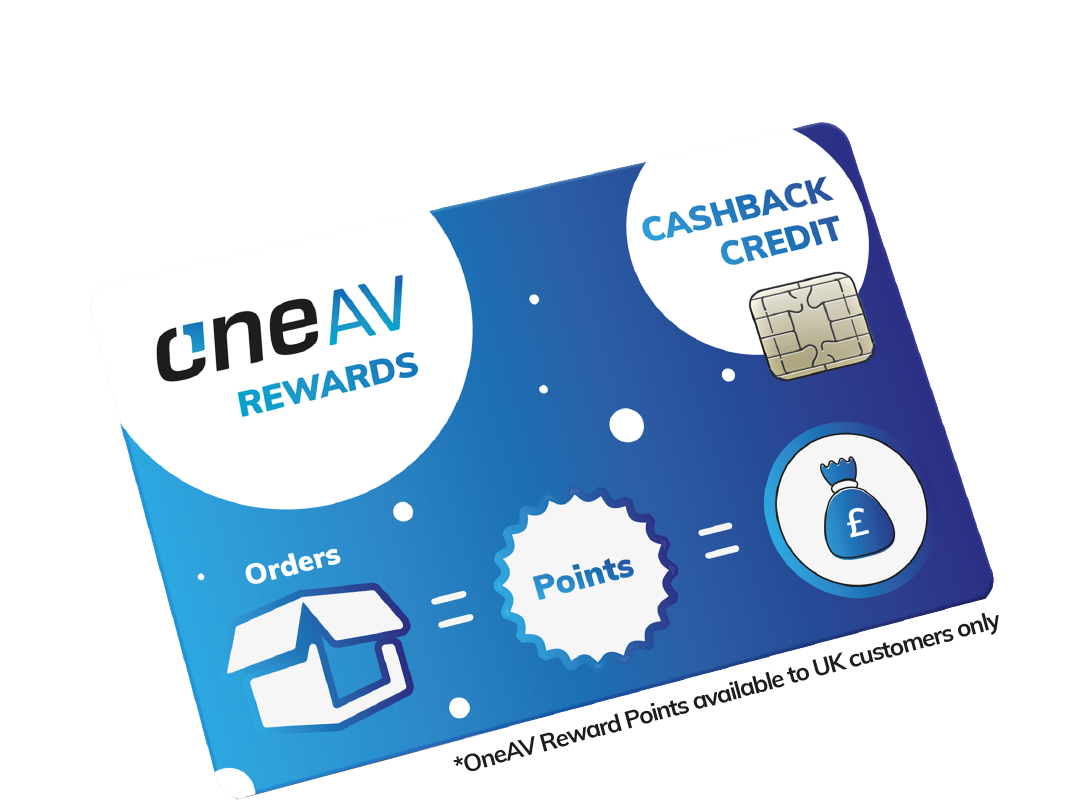 Points aren't only earned through purchases but also through training, event attendance (business and social) as well as participation in OneAV marketing activities.
Don't lose your points! Turn on email notifications
Within your My OneAV Trade Account section, we recommend that you click on the Rewards Points link in the left hand menu and turn on notifications to both receive emails when reward points are added to the balance and when your reward points are about to expire.
Earn more points by promoting yourself!
Want to know more about what you can do to earn some extra OneAV reward points? You can earn more points to spend with us by posting on your social media whenever you use OneAV. You show off your business and your handiwork and earn points for tagging us! Here are some examples. T&C's apply.
| | | |
| --- | --- | --- |
| Action | Points | Value |
| Retweet/Regram/Share our social media content and tag us | 100 | £1 |
| Share news from our blog or app and tag OneAV | 100 | £1 |
| Mention us in a relevant-to-OneAV story on Instagram/Facebook | 300 | £3 |
| Met one of the team? Snap a picture and tag us! | 300 | £3 |
| Visiting the office? Take a picture/video and tag us! | 300 | £3 |
| Like something we've done? Give us a shout out on social media! | 300 | £3 |
| Seen one of our publications? Snap a picture and share it with us! | 300 | £3 |
| Attend one of our webinars | 300 | £3 |
| Benefit from face to face training | 300 | £3 |
| Review a product we sell and post an image/video on social media | 500 | £5 |
| Endorse OneAV by shouting about our products that you've purchased | 500 | £5 |
| Attend one of our events (business or social). Rate the helpfulness of the training provided/your overall experience | 500 | £5 |
| Send us a case study where our products are used and tag us in your social media posts | 3000 | £30 |