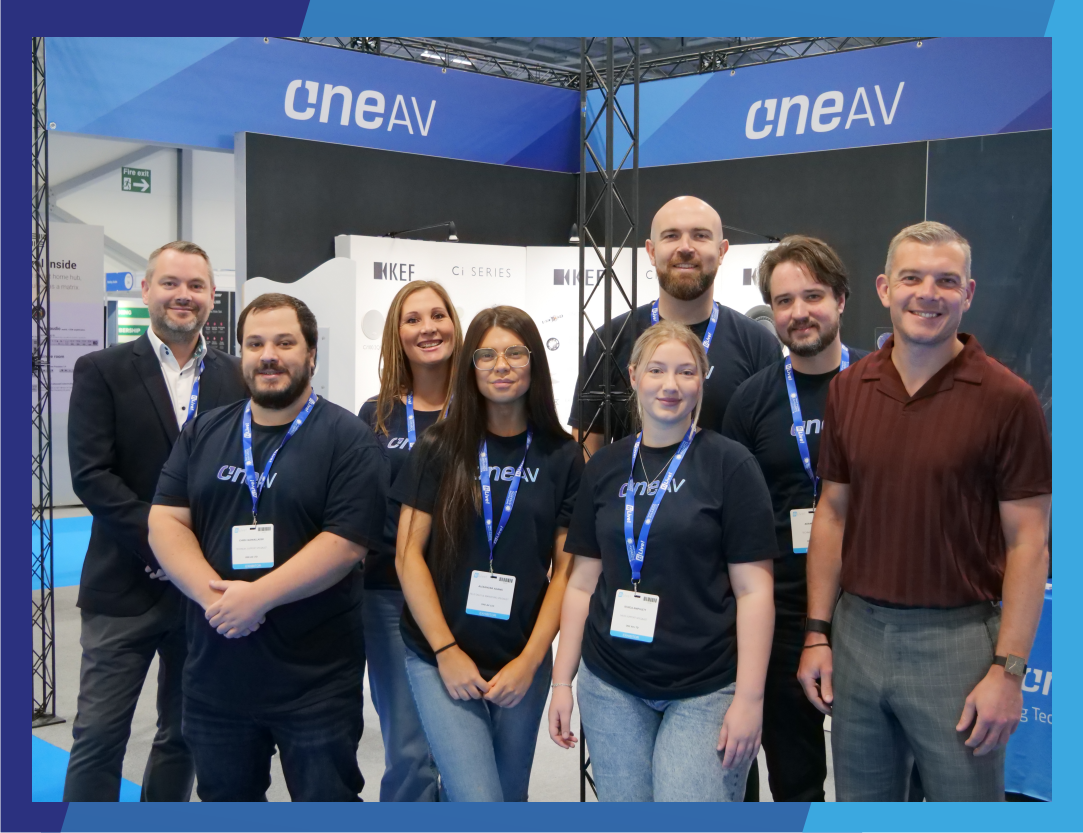 Welcome to OneAV, where the world of audiovisual technology comes to life in a way that's both friendly and expert. We're not just your typical audiovisual distributor; we're your trusted partner on your journey to creating extraordinary AV experiences.
Who We are:
We're not faceless industry giants; we're tech enthusiasts who understand the unique needs and aspirations of modern tech installers. Our journey began in 2016 when two guys named Chris, one from Germany and the other from England, decided to join forces. They met during the largest AV trade exhibition in the world, Integrated Systems Europe (ISE), over a post-show drink at a bar near Leidseplein in Amsterdam.
What were they lamenting about? Their modest-sized stands at ISE and the desire to do better. They envisioned combining their efforts, securing larger spaces, and offering each other's products in their respective countries. With that, OneAV was born.
What We Believe:
At OneAV, we believe that technology should enhance, not complicate, your life. We're dedicated to making your journey in the audiovisual world smooth and exciting. Our mission is to provide you with high-quality products, expert knowledge, exceptional customer support, and innovative solutions.
Why Choose Us:
Trusted Partner: We build relationships that last. Your success is our success, and we're with you every step of the way.
Expertise and Knowledge: We demystify the complex and share our technical expertise to keep you at the forefront of the AV industry.
High-Quality Products: When you choose OneAV, you choose excellence. Our product range is a testament to quality.
Exceptional Customer Support: Need assistance, advice, or a friendly chat? We're always here to help.
Innovative Solutions: The audiovisual world never stands still, and neither do we. We're your source for the latest trends and possibilities.
Comprehensive Product Portfolio: We offer a one-stop shop for all your AV needs, making your projects smoother and more efficient.
Our Achievements:
Awards:
Smart Building Awards 2018: Cable Solution of the Year - Pixelgen
Smart Building Awards 2019: Best Cable Solution - Pixelgen
Smart Building Awards 2021: Best Training Initiative
European Distributor of the Year 2022: HDANYWHERE
These accolades are a testament to our unwavering commitment to excellence and innovation in the audiovisual industry.
Join the OneAV Family:
OneAV is more than a distributor; we're a community of tech enthusiasts, experts, and innovators. We invite you to explore the possibilities, dream big, and create exceptional AV experiences with us. Let's work together to bring your audiovisual projects to life.
Thank you for considering OneAV as your trusted partner in the world of audiovisual technology. We're excited to be a part of your journey.
Let's talk.
We would love to hear from you.